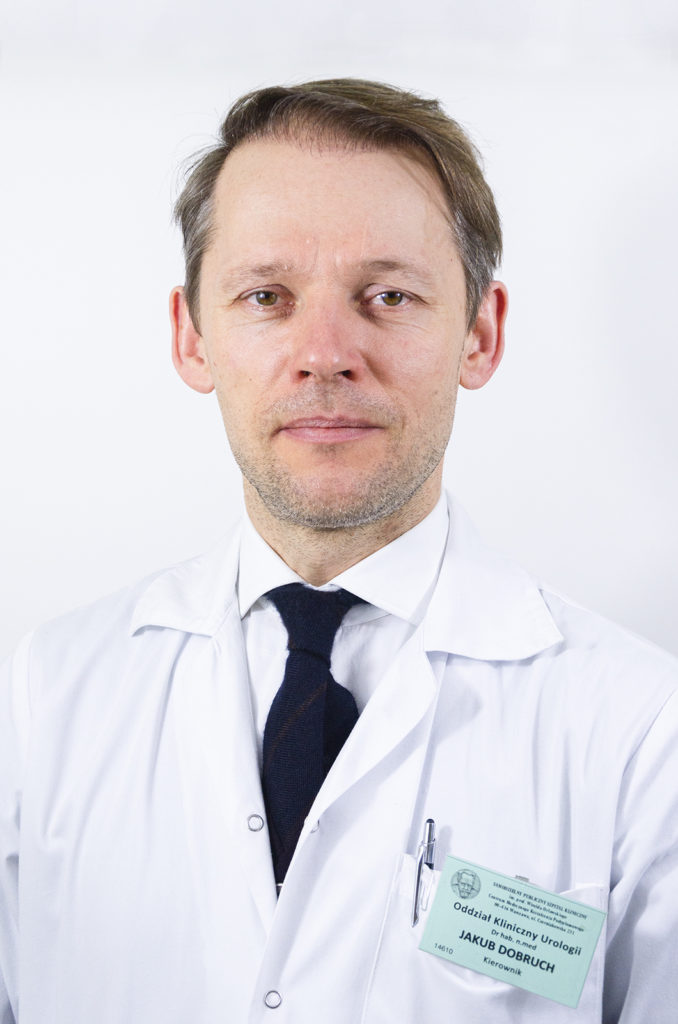 Prof. dr hab. n. med.
Jakub Dobruch
He graduated from the 2nd Faculty of Medicine of the Medical Academy in Warsaw with honors and first place in 2000. Scientific activity started during the third year of studies and continued while working, starting in 2000 as an assistant in the Department of Experimental and Clinical Physiology. Its culmination was a series of publications on the central regulation of cardiovascular function and the defense of a doctoral dissertation entitled: "The role of the vasopressinergic system in the central regulation of the circulatory system in SD rats with myocardial infarction". Parallel to work at the Department of Physiology, after completing a post-graduate internship, in November 2001, he started working as an assistant in the Urology Department of the Central Railway Hospital in Warsaw. The title of specialist in the field of urology obtained in 2008. After defending his doctoral dissertation and obtaining the title of specialist, he started working as an assistant professor at the Department of Urology at the CMKP, headed by prof. dr hab. med. Andrzej Borówka. While working in the urology department, apart from typical clinical activities, he conducts grants awarded by CMKP and KBN and numerous research works. Surgical and clinical experience improved during internships and trainings in leading urological centers in Europe and the USA, as well as an invitation to participate in the work of the YAU (Young Academic Urologists) organization, which as part of the EAU (European Association of Urology) associates representatives of leading urology clinics in Europe and runs multi-center research projects. Responsibility: works on bladder cancer.

The main subject of research carried out at the CMKP Clinic is urological oncology, especially research on bladder and prostate neoplasms. The latter constituted, inter alia, the basis of the habilitation thesis entitled: "Clinical significance of the state of surgical margins in patients undergoing radical prostatectomy". In 2014, after submitting the habilitation colloquium, he was awarded the title of habilitated doctor. A year later, as a result of the competition, he took over the management of the Clinic of Urology at the CMKP. In February 2019, he was appointed professor of the CMKP.

Surgical interests: mainly minimally invasive urology, in particular endourology, especially urological laparoscopy.